Rear Admiral (RADM) John F. Addams Obituary
November 20, 2019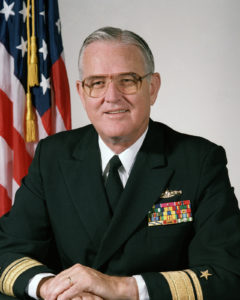 On November 3rd, 2019, Rear Admiral John Franklin Addams passed away. Born in Fort Thomas, Kentucky August 4, 1930, he was the youngest of five siblings. Admiral Addams and his siblings all grew up to be successful in business, education and military careers. He graduated from Highlands High School in 1948, Harvard College in 1952, and earned a Master's Degree from George Washington University in 1963.
Admiral Addams joined the Navy in 1953 and was a proud, 38 year, veteran. During his lengthy service, he commissioned both the USS Pratt and USS Jouett, commanded the USS Cochrane and Destroyer Squadrons 5 and 7. He also served as Commander Middle East forces in Bahrain and as Commandant of the National War College in Washington DC. Admiral Addams was a recipient of many awards during his service such as the Distinguished Service Medal, Defense Superior Service Medal, Legion of Merit with Gold Star and multiple Bronze Stars.
Admiral Addams is survived by his wife of 67 years, Mary Ellen of Boston, Massachusetts. He and his wife met on Nantucket where both held jobs over the summer. Seven weeks after meeting, they were married at Nantucket's Congregational Church. Admiral Addams and Mary Ellen loved both of their sons, Tom and Peter, very dearly. Tom and Peter's wives, Barbara and Karen, and their children all loved Admiral Addams and cared for him until the day of his passing. Admiral Addams was cared for lovingly by his extended family and friends.
Burial of Rear Admiral John F. Addams with full military honors will be at Arlington National Cemetery at a date to be determined by the family. Donations may be made to National Presbyterian Church 4101 Nebraska Ave NW, Washington DC 20016.
Money and King Funeral Home
171 Maple Avenue W Vienna, VA 22180 (703) 938-7440
Information provided by The Washington Post
"John Addams Orbituary." Washington Post, 9 Nov. 2019.